Charles Malata - Patient Testimonials


Breast Reduction Surgery
I highly recommend Dr. Malata for this procedure, for anyone living in the UK. I am American, but had to get a referral for Dr. Malata, as the hospital that I attend does not currently have an in house PS. Dr. Malata is VERY meticulous and answers EVERY question that you have with care and knowledge. He is attentive to the patient's needs, concerns, and wants. He definitely gives his all in what he does, and exercises his gifts and talents to the VERY best of his ability. If I could give Dr. Malata 100 stars, I would give him 200! I am very well pleased with my results and his staff. I have a 24 hour contact number for him that I received at my initial consult, for any questions, and as a patient now, for any emergencies or concerns that may arise, yes, Dr. Malata is that DEDICATED. I wish you all the best, and again, I highly recommend Dr. Charles Malata!
http://www.realself.com/review/suffolk-united-kingdom-breast-reduction-surgery-in-days
| | |
| --- | --- |
| Doctor's Bedside Manner | |
| Answered my Questions | |
| After Care Follow-Up | |
| Time Spent With Me | |
| Phone or Email Responsiveness | |
| Staff Professionalism & Courtesy | |
| Payment Process | |
| Wait Times | |
Abdominoplasty
"Dear Professor Malata & team,
I would just like to say a very big thank you to you all for the excellent care and attention you gave me during my operation and aftercare. I can now say I have got my life back after 3 long years, and I thank you for this, carry on the excellent work. And again many thanks."
R.M, of Peterborough
Rhinoplasty or nose job.
"Dear Professor Malata,
No words could ever express the change in my life that you have given me! From the moment I met you I gained the confidence and trust in you that gave me the courage to have my nose fixed! I've lived with the torment of nasty name calling within me for 41 & a half years (mainly from school) that had screwed me up inside. BUT when the nurse took my cast off – I was gobsmacked with the results – My confidence & outlook on life suddenly grew from the floor to the moon. I walked out that hospital. with my head held high & the biggest grin I've had in years.
In the last 3 days I've even gone out, had an interview & was offered the job as a breakfast club leader to start in January.
I don't try and cover my face when I talk now – I am just such a happier person. You will be in my heart forever, I'm just so thankful to you. What a wonderful dedicated surgeon you are. Thank you."
C.P of Bishop Stortford's
Breast Augmentation (Breast Enlargement) Patient.
"Dear Professor Malata,
Thank you so very much!
I am so pleased with the outcome of my treatment.
Best wishes"
SH, from Cambridge
Face Lift
"Thank you Professor Malata for what you have done for me. I am so pleased, who knows, I might be seeing you again in the future, I have all my confidence in you."
MJ, of Peterborough
Breast reconstruction with Latissimus Dorsi Flap & Balancing Breast Lift
"Dear Professor Malata,
Many congratulations on the piece in the Daily Mail today. You most certainly have improved my life by re-building me. It is now almost ten years since I came to you. The result was and still is brilliant. I am now sixty-four years old, still a neat size 12 and able to go topless on a beach and no one would ever guess that it is down to your meticulous surgery.
Over the years, I have several times removed my bra to show other cancer patients what can be achieved, thus helping them make up their minds whether to have surgery. From the moment I met you I trusted you to make me feel like a woman again – and you certainly have. A Million Thanks."
WS, of Lincolnshire
Melanoma Skin Cancer patient
"Dear Professor Malata,
My husband & I were so pleased to see in this week's "Daily Mail" that you were named among the top 10 breast & reconstructive surgeons in Britain. A brilliant & we're sure, a very well deserved achievement. Congratulations & again thank you for all your care, concern & 1st class help relating to my post melanoma problems. With every best wish & our friendship."
JG, of Bury St. Edmunds, Suffolk
Mini-tummy tuck
"Dear Professor Malata,
Many thanks for your wonderful handy work! "
AD, from Peterborough
Breast Reconstruction with a DIEP abdominal flap.
"Dear Professor Malata,
Although I've seen you on two occasions and have an appointment. I'm writing to thank you so very much indeed for your outstanding care.
At the first consultation with you, at the Nuffield, I was overwhelmed by your clear and precise explanation of the procedure of reconstruction following mastectomy. It was utterly awe-inspiring.
You had the capacity of reassurance, and treating me with intelligence, and, at the same time, kindness and highly professional care.
It's taken all this time to appreciate exactly what has been carried out. And I'm still overwhelmed by, not only your incredible surgical skill, but the timing and planning behind the concept of reconstruction.
It is 'light-years' away from the excruciating surgery women had to endure when I was nursing in the 60's. Absolutely no question of reconstruction then!
I'm still astonished by it, particularly the 'bonus' of the 'tummy tuck'! And more importantly of your impressive diligent care, Pre and Post op.
It seems inadequate just to say "Thank you" so much for all your care."
LF, of Kings Lynn
Breast Reconstruction with implants.
"To, Professor Malata & his team. Hoping you all have a wonderful Christmas and New Year. Thank You for taking care of me over the last year."
HG, of Royston, Cambridge
Breast Reduction
"Dear Dr. Malata,
I would like to thank you very much for taking the time and trouble to explain my operation to me. You carefully and concisely told me about it in terms I could understand and helped allay my fears. Now all I've got to do is lose about 4 & a half stones! I have made a start by walking 2 miles up and down hill yesterday and the same today as well as eating very healthily. I hope there will be a vast improvement when I see you again in 6 months time."
CS, of Stamford, Peterborough

Bilateral Breast Reconstruction with DIEP flaps

"Dear Professor Malata,
This is not a Christmas present but a small token of thanks for the skill and kindness with which you have looked after me. It has understandably been a very difficult time, but your advice and care has been so helpful – and I am delighted with the results (Bilateral Breast Reconstruction, and all just as I hoped). With all the very best wishes for 2008."
LP, of Cambridge
Breast Reduction Patient from Suffolk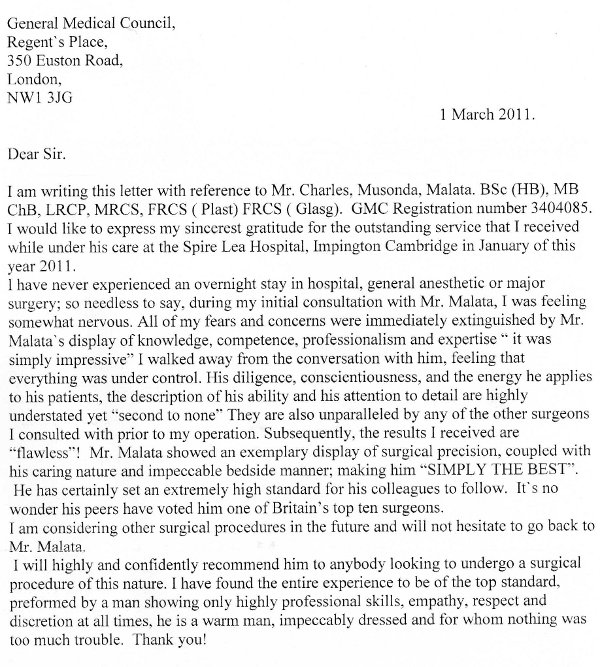 Breast Reduction Patient from Suffolk
DH, from Suffolk